NEW Online Class for School Administrators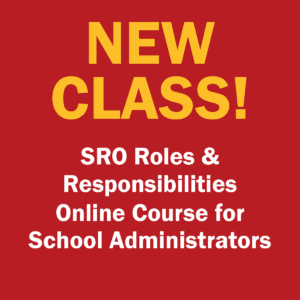 The Center is offering a NEW online class for School Administrators – School Resource Officer (SRO) Roles and Responsibilities Online Course for School Administrators.
School Resource Officer (SRO) programs should be a collaborative effort between law enforcement agencies and school districts/open enrollment charter schools. Because SROs play a unique and diverse role in keeping the school and community safe, this course was developed to guide school administrators by providing an in-depth understanding of the roles and responsibilities of a SRO.
Participants will be introduced to the triad concept of school-based policing which divides the SRO's responsibilities into the three areas of educational resource, informal counselor/mentor, and law enforcement officer. In addition, participants will learn about the limitations of the SRO's role in disciplinary issues and search and seizure in schools, recognize the benefits and challenges of a SRO program, understand the importance of developing an effective Memorandum of Understanding (MOU), and learn about the importance of the SRO program in the prevention of school violence.
Completion of this online program satisfies requirements set forth in new legislation (Acts 551 and 622 of 2021) directing school superintendents, principals and immediate supervisors of SROs to complete a 1-hour SRO Roles & Responsibilities course.
Course dates for 2022 are as follows:
January 4-10 • January 14-20 • February 2-8 • February 15-21 • March 2-8 • March 15-21 • April 1-7 • April 15-21 • May 10-16 • June 10-16
For more information, contact Vicki French at 501-570-8098.