Arkansas School Safety Commission: Final Report 2022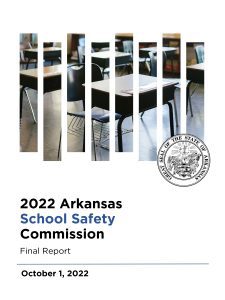 On June 10, 2022, Governor Asa Hutchinson reconvened the Arkansas School Safety Commission.
Pursuant to Executive Order 22-09, the Commission was tasked with reviewing the Final Report of the 2018 Commission, providing an update on the status of school safety across Arkansas, updating the analysis of the safety of K-12 schools throughout the state, determining progress toward the findings of the previous report, and identifying new recommendations of best practice.
The Arkansas School Safety Commission's 2022 Final Report details the progress which has been made in implementing the 2018 School Safety Commission recommendations and presents new 2022 Commission recommendations.