Civilian Response to Active Shooter Events (CRASE)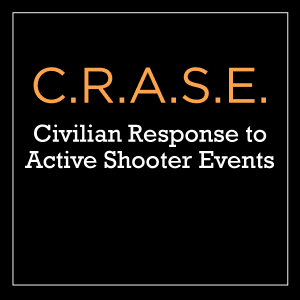 Schools seeking direction on what to do if confronted with an active shooter event have a FREE resource available to them through the Arkansas Center for School Safety.
Utilizing a program developed by Advanced Law Enforcement Rapid Response Training (ALERRT), our Civilian Response to Active Shooter Events (CRASE) training is designed for administrators, educators and other school personnel.
WHAT YOU DO MATTERS. This training provides guidance and a plan for surviving an active shooter event based on three responses— the Avoid, Deny, Defend® strategy. Avoid the attacker. Deny the attacker access to your area. If you are unable to avoid or deny, Defend yourself. All three strategies will be discussed in detail in a classroom presentation. Other topics covered include the history and prevalence of Active Shooter Events and the role of professional guardians.
Following the classroom presentation, participants will have the experience of utilizing what they learned in hands-on, realistic drills held on their own campus. This allows participants to formulate strategies and plans based on the unique composition of their school. It will also help them become more familiar with resources they have onhand to assist them should such an event ever occur.
This training is FREE to any requesting school/school district in the State. The training takes approximately four hours to complete.
To request a CRASE training in your school or school district, contact Vicki French at 501-570-8098.