School Site Safety Assessments & Audits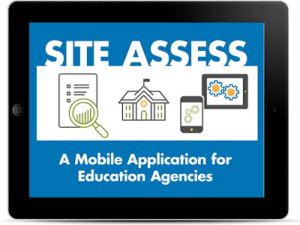 A critical element in developing a high-quality Emergency Operation Plan (EOP) for a school district is the identification of vulnerabilities. To assess vulnerabilities, schools are required to conduct school safety assessments.
The Readiness and Emergency Management for Schools Technical Assistance Center (REMS TA Center) created a free, secure mobile app, SITE ASSESS, to support K-12 education agencies in conducting site assessments of their buildings and grounds. The app contains customizable questions about a range of hazards and threats, allowing users to account for state and local requirements. Among other features, users can capture and store images, generate a tailored to-do list to organize facility improvements, and export data in a variety of formats to support collaboration with community partners. Download SITE ASSESS for free from Google Play or the Apple App Store.
This app is practical, easy to use and contains multiple checkpoints for personnel to use to evaluate campus facilities, policies and procedures.
The Arkansas Center for School Safety (ACSS) provides School Site Safety Assessment and Audit Training, a free training that focuses on the use of Site Assess. Two of these in-person trainings are coming soon:
February 28 – Pulaski County Special School District
March 31 – Southside School District (Batesville)
April 13 – Ozarks Unlimited Resource Educational Services Co-op (Harrison)
June 16 – White Hall School District
To provide participants with hands-on, practical experience, a portion of this class includes an actual walk through and physical evaluation of a school site. Participants will receive resources for setting up safety and security monitoring and reporting for their district as well as gain knowledge on selecting campus and district emergency response teams and campus evaluation teams.
---
The ACSS also offers a 3-hour FREE online training in School Site Safety Assessment. This training addresses the steps that should be taken in conducting a school site safety assessment including: assembling an assessment team, conducting a school crime assessment, conducting a school safety survey, controlling access into the school, developing a school security system, developing a site safety assessment checklist, and completing the school site safety assessment report.