October is National Bullying Prevention Month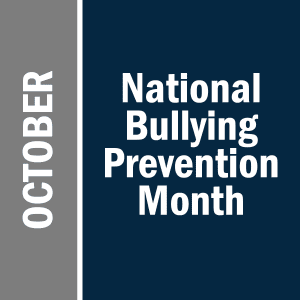 Bullying continues to be a problem for our schools and can interfere with a student's ability to receive the quality education they deserve. Changing bullying behavior requires a coordinated approach between administration, teachers, counselors, parents and students. SROs are also in a unique position to help identify and eliminate bullying behavior in schools. Knowing how to identify and address bullying behavior is essential to solving the bullying problem.
Every October, schools and organizations across the country join STOMP Out Bullying™ in observing National Bullying Prevention Month. The goal: encourage schools, communities and organizations to work together to stop bullying and cyberbullying and put an end to hatred and racism by increasing awareness of the prevalence and impact of all forms of bullying on all children of all ages.
The STOMP Out Bullying™ website features a month of anti-bullying activities, including a STOMP Out Bullying™ Online Student Participation Toolkit.
You can also visit www.stopbullying.gov for an assortment of resources on bullying and cyberbullying.
---
The Arkansas Center for School Safety provides a FREE online training, Identifying and Preventing Bullying ONLINE, designed to help school resource officers and school personnel define bullying, recognize the warning signs of bullying, learn bullying statistics and myths, identify Arkansas statutory efforts against bullying, identify key roles in bullying events, and learn what schools can do in bullying prevention efforts. REGISTER ONLINE TODAY.
---
The Arkansas Division of Elementary and Secondary Education (DESE) developed guidance on bullying prevention, as required by Act 1029  in consultation with state agencies, school personnel, advocacy organizations, and other interested parties to support public school districts and public charter schools in addressing the issue of school bullying.