Standard Response Protocol & Standard Reunification Method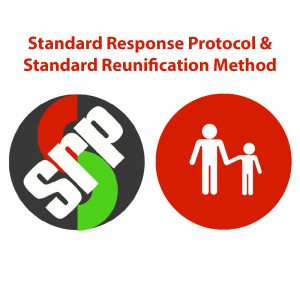 A uniform, planned, and practiced response to any incident is the foundation of a safe school. The Standard Response Protocol (SRP) is a proven enhancement to school safety planning. The SRP is action-based, flexible, and easy to learn. It rationally organizes tactics for response to weather events, fires, accidents, intruders and other threats to student safety.
The Standard Reunification Method (SRM) fills a critical void in school safety planning: How to reunite students with their parents after a crisis. The SRM provides proven methods for planning, practicing and achieving a successful reunification during what are often chaotic, anxiety-filled scenes. A predetermined, practiced reunification method will help defuse emotion at the site.
This 7-hour training will introduce the concepts and history of the SRP and the SRM and how to train the programs. Also included is a segment on Incident Command and how it relates to crisis management for educators.
THIS TRAINING IS FREE OF CHARGE.
The program will be held at the Criminal Justice Institute on April 8. REGISTER TODAY!
ABOUT THE INSTRUCTOR: John-Michael Keyes
For over a decade, John-Michael Keyes has represented the "I Love U Guys" Foundation to districts, departments, agencies and organizations regarding school safety. Prior to that, his career has spanned graphic design, communications, writing, software and database development.
The death of his daughter, Emily, at the hands of a gunman at Platte Canyon High School compelled Mr. Keyes to bring his professional expertise to the arena of school safety. Today, Mr. Keyes is an internationally sought keynote speaker not just in the arena of school safety but often presents to law enforcement-only audiences.