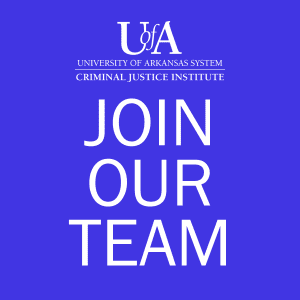 The Arkansas Center for School Safety is currently seeking applicants for a Safe Schools Project Coordinator.
The Safe Schools Project Coordinator will be responsible for the day-to-day implementation of Safe School programs, including threat assessment and site safety audits resources/training. The primary responsibilities include coordination and scheduling of classes, working with contractors in the development and delivery of classes, project data collection, and instructing Youth Mental Health First Aid courses.
The Arkansas Center for School Safety (ACSS) provides education, training, resources, and technical assistance to Arkansas educators and law enforcement professionals to assist them in providing our kids with a safe environment to reach their academic potential. Through a partnership between the Criminal Justice Institute and Arkansas Division of Elementary and Secondary Education, a comprehensive catalog of basic and specialty school safety training courses are available to both law enforcement and school personnel, including administrators, teachers, staff, counselors, and school security officers. The ACSS utilizes both classroom-based instruction and practical, hands-on application in a variety of topics that increase knowledge and skills related to school safety issues.
To see the full job description for this position and to apply, visit us online!